August 2020 Release Notes
06 Jul 2021

1 Minute to read
August 2020 Release Notes
Updated on 06 Jul 2021

1 Minute to read
---
Dynamo DB UI Update
In keeping with our goal to improve our customer experience, we have updated the user interface for Dynamo DB General and the Advanced tabs.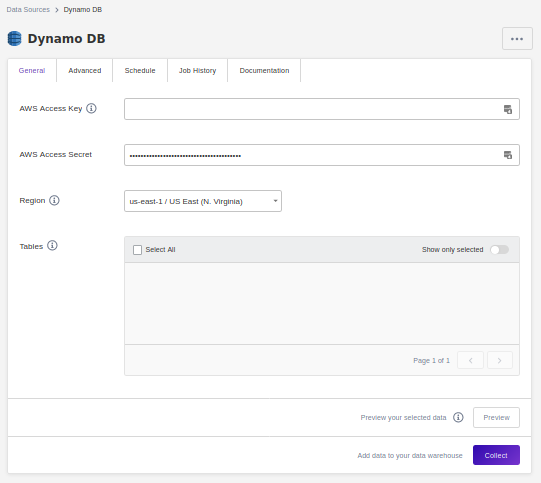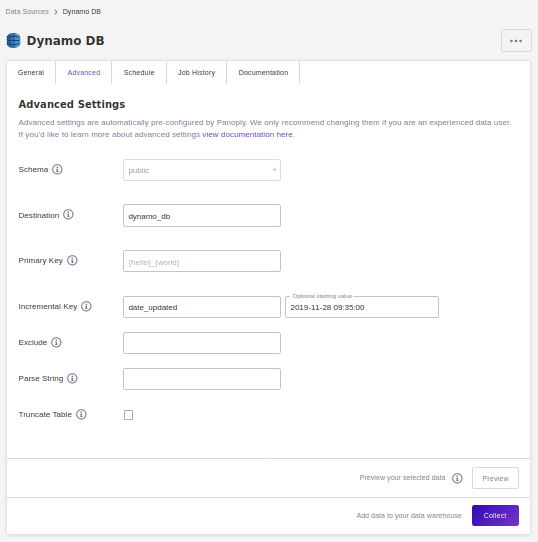 Bug Affecting All Dynamic Sources (Database/File Systems)
It was discovered that there was a bug affecting connections to dynamic sources (such as Mongo DB, Postgres, MSSQL, Elasticsearch, etc), causing them to fail if the connection details are changed or re-entered. This has been fixed.
Google Sheets (v 2.0.x)
As part of Panoply's efforts to improve our data sources, we are opening our updated Google Sheets beta to all users. This update includes handling for columns that do not have a header value in the header row by adding a value of column <column letter> (such as column b as well as handling of duplicate header values by modifying the second header with the column letter in the manner of <header name> column <column letter>, such as name column b.
The previous version of the Google Sheets data source is deprecated as of August 17, 2020. Users will have 90 days from then to move to the new data source. For more information, see our data source documentation.
Instagram Business Bug Fix (v 1.0.4)
When a user has been granted a role by the Business Manager, that user must also have one of these other permissions: ads_managment, pages_read_engagement or business_management. While investigating an error reported by a user, it was discovered that the pages_read_engagment had not been included with the original release of this source. In addition, to be successful, the Instagram Business account should be connected to a Facebook Business Page. Users will need to reconnect to approve these added permissions.
---
Was this article helpful?
---
What's Next